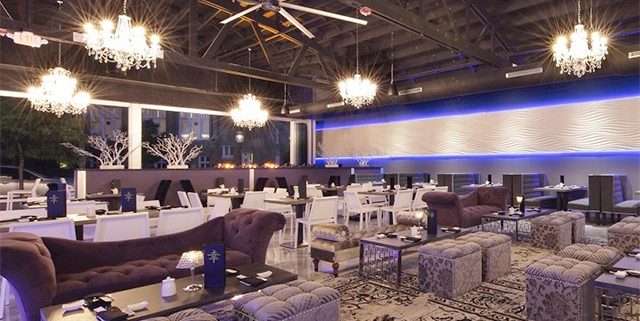 Architectural Materials Reinforce Your Business Brand
Architectural materials impact the way your business brand is perceived. Businesses will want to consider material options carefully when building or remodeling. Your business will benefit from a well-designed space that reinforces your brand identity.
Business brand identity
You worked hard to develop your company's brand identity. Likely, you hired a graphic designer or branding specialist to develop your company logo. Perhaps a writer developed your business tagline. Maybe you also made the effort to create brand standards for staff and vendors to follow.
Companies do all of this to establish customer product or service expectations. Branding also plays a key role in differentiating one company from others, especially competitors. For best business results, companies stay consistent in their approach and remain true to their brand.
Branding your place of business
Are you planning to build or remodel your place of business? You'll want to project your company's brand image. Whether you're building or remodeling your company's restaurant, office, retail outlet, or entertainment venue, apply your company's brand standards for maximum impact and success.
Be sure to share your brand's standards with your architect. They will design your commercial, institutional or industrial building to reflect and reinforce your brand identity.
The role of materials in reinforcing brands
Consistent strategic branding applied to architecture will result in a better space and stronger brand value. Even the tiniest detail can contribute to or detract from a company's brand perception.
Here are examples of materials and elements used in a few of our projects that reinforce our clients' brands: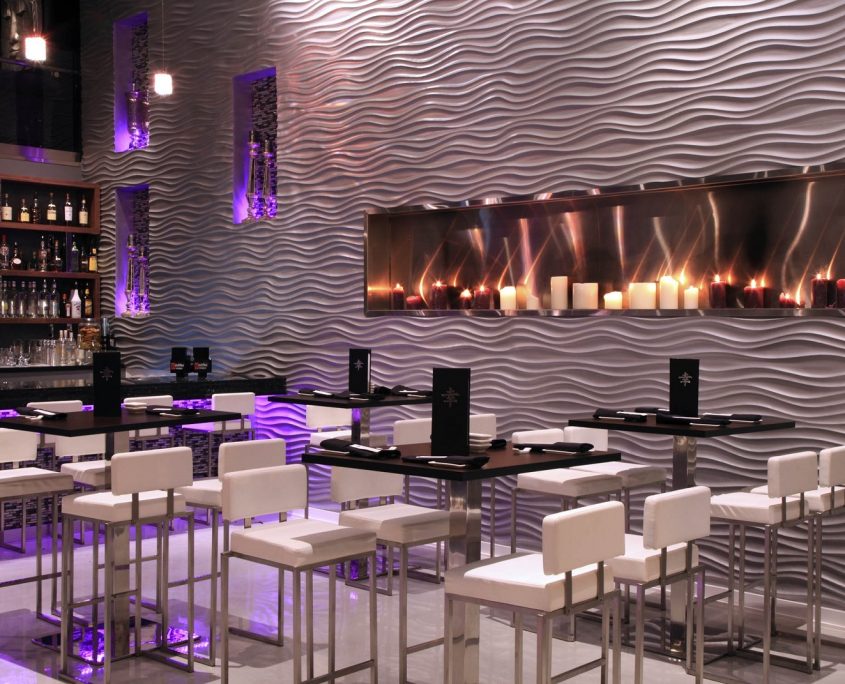 Shakou Sushi Restaurants
Shakou is a group of modern Asian restaurants with a city-vibe located in the Chicago suburbs.
Shakou successfully translated their brand identity from the first location in Libertyville to four additional locations in Barrington, St. Charles, Park Ridge, and Arlington Heights. Here are some of the spatial elements and architectural materials that go into creating these distinctive spaces:
Modern furnishings & crystal chandeliers
Vibrant colors & bold colored led lighting
Large, bold Asian artwork & graphics
Dramatic, wavy textured panel accent walls & hanging panels
Swirl-pattern poured epoxy topping on concrete floors
Reflective surfaces, such as glass railings & doors and large wall mirrors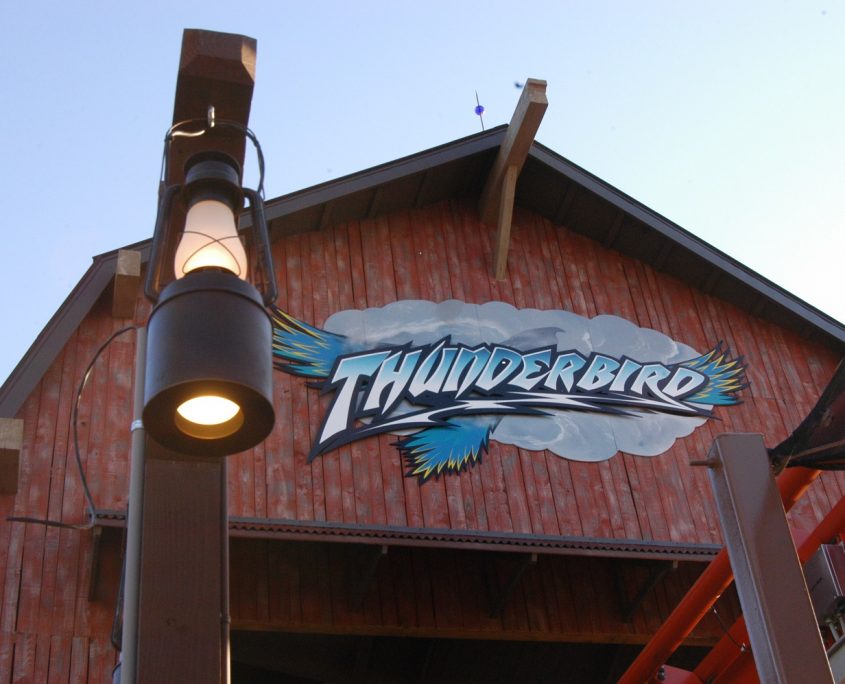 Holiday World & Splashin' Safari – Thunderbird
Holiday World & Splashin' Safari is the nation's first theme park and is located in Santa Claus, Indiana.
Thunderbird is the nation's first launched wing roller coaster. The steel coaster is located in the park's Thanksgiving-themed section and its theming connects the Native American legend of the Thunderbird with the aesthetic of a Midwestern farm. Here are some of the spatial elements and architectural materials that tie in with the theming to create this distinctive attraction:
Rustic red wood and weathered brick barn station
Broken boards & roofing and scattered wood shingles
Rustic farm-style lantern lighting
Natural grove of trees
Weather effects including lightning, thunder, wind, and fog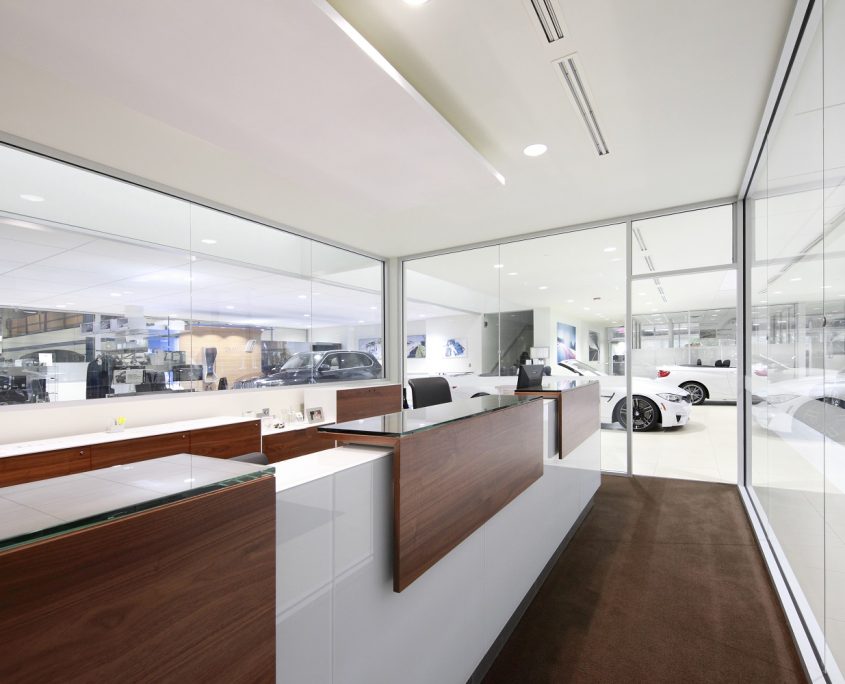 Karl Knauz – BMW
Karl Knauz Motors – BMW is the home of "The Ultimate Driving Machine" and is a franchise of Knauz Automotive in Lake Bluff, Illinois.
The project challenge was to translate the BMW corporate brand strategy to transform an existing building. We designed a space that engages customers in the excitement and quality of the high-end BMW brand. Elements of the space reflect the innovative, high-performance Karl Knauz and BMW brand identities:
Open, flexible and vibrant space
Clean and sophisticated white surfaces
Bright LED spotlighting
Floating ceilings
Porcelain tile floors
Frameless glass walls
Modern furnishings with walnut panels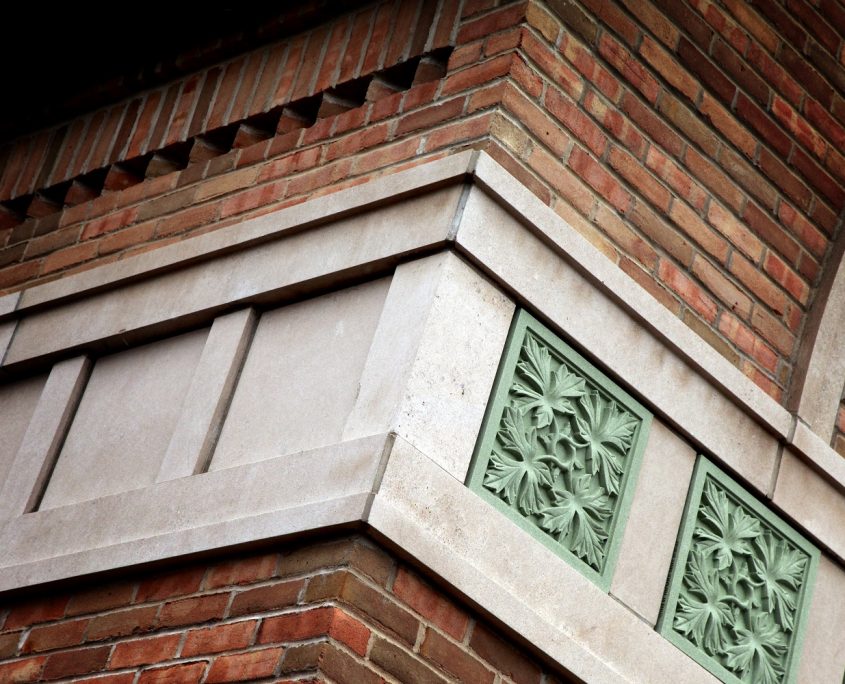 State Bank of The Lakes – Round Lake
State Bank of the Lakes is a member of the Wintrust Financial Corporation and is located in Round Lake, Illinois.
The new two-story brick and stone bank reinforces the quality Wintrust brand image of refinement and tradition. The building exterior and interior includes rich architectural materials and details that have defined the brand, including the following:
Patterned brick exterior with stone accents
Coffered ceilings, tile craftsmanship
Custom millwork transaction counters, columns, and more
Leaf motif, suggesting growth, strength, and stability
Vibrant carpet and furniture patterns & colors
High-efficiency LED lighting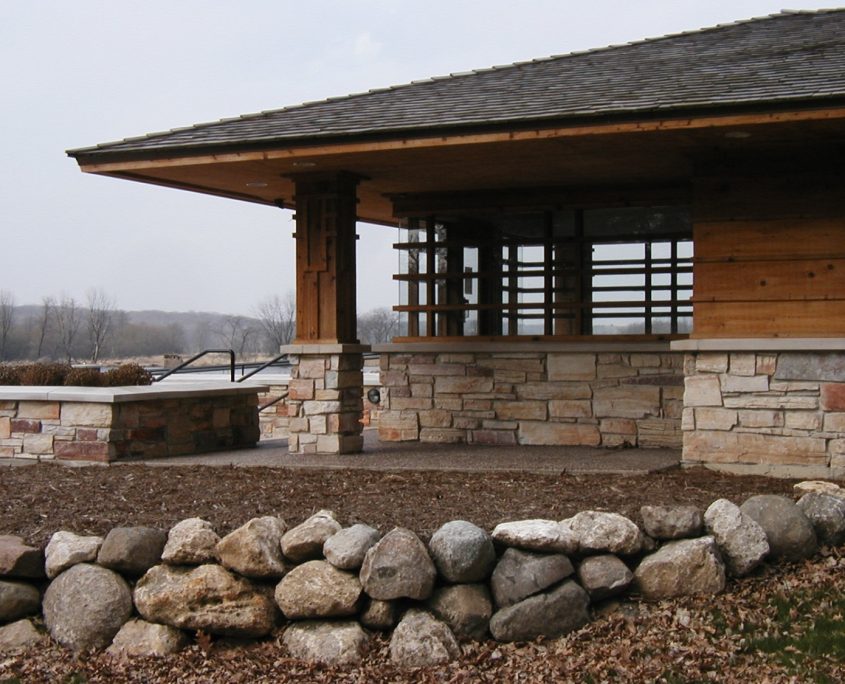 Lake County Forest Preserves 
Lake County Forest Preserves is an award-winning, nationally recognized organization that preserves Lake County, Illinois' natural and cultural resources.
The Forest Preserves' brand focus on nature and public access is reflected in 80+ projects we've designed over the years. All of the projects include the following natural materials and energy-efficient elements:
Local stone walls and chimneys
Wood siding, beams, columns, and trusses
Low-maintenance surfaces
Energy-efficient windows
Low-VOC painted surfaces
High-efficiency lighting
Businesses benefit from a well-designed space, using materials that reinforce their brand identity. Companies who are building or remodeling will want to use the right architectural materials to stay consistent and remain true to their brand.
Read more about rebranding auto dealerships on our blog, Auto Dealership Rebranding.
https://bleckarchitects.com/wp-content/uploads/2015/10/restaurants2.jpg
480
640
Bleck Architects
https://bleckarchitects.com/wp-content/uploads/2017/06/bleck_architects_logo.png
Bleck Architects
2017-11-17 08:00:40
2017-11-16 14:50:17
Architectural Materials