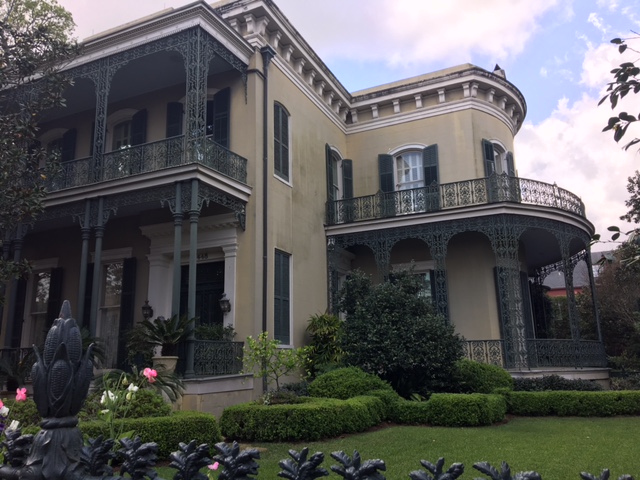 Wrought iron is a strong, durable material that is both functional and ornamental. In New Orleans' French Quarter, wrought and cast iron are very common. On a recent visit, we saw many beautiful examples in the balconies and galleries of the historic buildings. We especially appreciated the wrought iron corn stalks, acorns, leaves, and flowers that graced the building railings and add unique architectural flourishes.
What is Wrought Iron? 
The word wrought means "to work". It is a malleable metal, due to its low carbon content. Worked by tools and shaped into decorative designs, it is a strong, durable, heavy-duty material.
Because of its composition, wrought iron rusts very slowly as compared with other iron. A powder coating is commonly used to reduce its tendency to rust. In addition, you can apply paint, linseed oil, or beeswax to retard weathering.
What are the advantages of wrought iron over cast iron?
Wrought iron is not the same as cast iron or steel. It is formulated of iron and slag, so it can be heated and reheated. It is very malleable and can be worked by hand into different shapes by a blacksmith. Wrought iron can be shaped into lovely intricate designs suitable for fences, furniture, and architectural elements. Because of its strength, it can also be used for structural purposes.
In contrast, cast iron is iron that is melted and poured into a mold where it is allowed to cool before being released. Cast iron has a lower melting point and is more fluid than wrought iron. It is less labor intensive, but it is brittle and has low tensile strength compared to wrought iron.
How is wrought iron used?
Depending on your needs, it can be used for a variety of purposes. Decorative designs in wrought iron can be simple or elaborate, depending on your taste or project.
Primary decorative uses:
Fences and railings
Spindles, spears, rosettes and finials
Screens
Patio furniture
It's most common use is to serve as a barrier. Balconies, galleries, and swimming pools are all places where you commonly see barriers made of wrought iron. In these locations, railings and fences keep people and pets safe from falling or entering areas that may present a hazard.
Wrought iron and aluminum are the most popular materials used in the manufacture of patio furniture. Wrought iron furniture is heavier than aluminum and can withstand the weather and rigorous daily use. Because of this, it is perfect for windy locations, high traffic areas, and commercial use.
In all cases, the wrought iron can be exposed to the weather with minimal degradation and the metal can be repainted or refinished as needed.
Historic buildings that feature wrought iron
Historic examples of wrought iron are found throughout the United States and the world. Many historic buildings include iron work that is restored and preserved for future generations. In cases where important wrought iron details are missing, today's craftsmen are still able to authentically replicate wrought iron elements for historic buildings.
You can see some historic structures made of wrought iron, including the Bollman Truss Semi-Suspension Bridge, the Iron Pillar of Delhi, and the Eiffel Tower. The Bollman Truss is the last wrought and cast iron semi-suspension bridge in the world. The Iron Pillar in India is over 1,600 years old. The Eiffel Tower was built in 1889 and was intended to last only 20 years. It is restored, renovated, and adapted to accommodate a variety of uses and hosts over 7 million visitors a year!
The fence surrounding the White House in Washington, DC is also made of wrought iron. Recently, plans have been approved to upgrade the fence, for security reasons. The new fence will be higher and will include a stone base with ram-proof gates. The gates at Westminster Abbey in London are also made of wrought iron.
Fences of this type provide a secure barrier, while still allowing a sense of transparency. They are strong, durable, and dependable and add a quality appearance that enhances your property's curb appeal.
Current use of metals
Both wrought and cast iron have largely been replaced by steel in construction projects, but wrought iron is still used in instances where a decorative aesthetic is desired.
Ductile iron was developed in the 1940's by adding alloys to prevent cracks from forming. It offers the benefits of both wrought and cast iron, without the limitations of either. Learn more about how custom metal products are formed here.
For additional photos of wrought iron fences, gates, and railings, click here.
Read more about the development of wrought iron and the differences between wrought and cast iron.